Production Notes by Tim Reid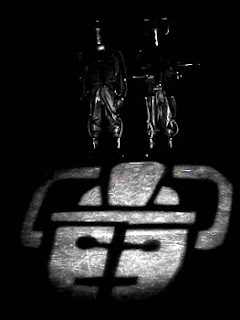 Deconstruction began on the back of "Help Wanted". At the premiere we were all tremendously buoyed up by the quality of the film and looked around for ideas as to what we might do next. We all came from a Doctor Who fan background, and it was mooted that we do something with Cybermen. Now, Deconstruction already existed as an unfinished story in the collaborative "Random Fiction" project online, and it's single main character and strong Doctorless plot suited what we wanted down to the ground. I came up with a glib but satisfying ending that night and we went off and slowly but surely drew our plans...
The driving force behind the film was Kevin Hiley, who had the skills and vision to imagine the practicalities of the shoot: Kev's genius was to invent ways we could turn just 2 cyberman costumes into an army, shooting composite shots and split screen, and always knowing what he could add in post to turn a deserted rocky beach or a school into an asteroid surface or a futuristic base. Although I am credited as director it was a collaborative effort and while I had plenty of input into directing acting and story moments it was Kev who had the technical overview that has resulted in the film looking as good as it does.
The first shoot took place a short while after September 11th, 2001 in Glasgow and then Ardrishaig in Argyll, Scotland. We were supported and hosted by Kenny Davidson who served as location scout, police liason and corpse. After some location filming in Glasgow's Kelvingrove Park with John Isles and Tanya Ni Mhuirthile for the flashback scenes, the crew moved to Ardrishaig and work began in earnest, and darkness. Our first night was spent on a precipitous and rocky beach, shooting the initial battle scene. It was tricky work, as our only sources of light were handheld torches and the generator powered redheads that were lighting for camera. We had borrowed a fog machine which kept tripping the safety switch on the genny and plunging us into darkness. Despite being largely unable to see out of their suits our two Vybermen (Kevin Murray and Colin Bell) did us proud, stalking menacingly about in many different areas of a split screen shot, before getting out of the silver gear and into natty shades to be soldiers and shoot back at themselves. Once again Kevin showed his instincts were spot on when he had us record an aftermath shot of the cyber feet walking past a corpse. It's one of my favourites.
We spent the rest of the time in Ardirshaig filming either at the school location, or at some minor locations found along the coast road. The rock face where Chinon discovers his colleague's body was a wonderful find. Although I can't remember whose idea it was, lighting it by simply putting the lights in shot as if they were knocked over in the battle was a great touch, and the establishing shot (now nicely embellished with CG) is another one of my favourites in the film, as Chinon's battered silhouette stumbles up to the cliff face. I also remember spotting from the car the culvert that was to become the entrance to the underground tunnels. Kevin made it look fantastic by drawing a cyber logo onto it in post, but it was a nice location itself, with the overlooking balcony the perfect place to put the corpses and give us a moment for a flashback.
The initial filming at the school was when the smoke machine came into its own - apart from providing that war-torn look and a cloud of steam for the cybes to stride out of for their first proper appearance, it also was helpful in masking the vast quantities of graffiti on the school walls.
The last night was entirely spent on the centrepiece fight scene, and I feel it's one of the strongest parts of the film. I think the scene hangs together brilliantly, and is genuinely exciting.
We later filmed interiors and some day for night exteriors around the RSAMD in Glasgow, using their now dismantled TV studio as both a studio and a location - its control room becoming a room we couldn't have afforded to build as a set. Likewise its gloomy fire exit corridors became our underground tunnel, and the industrial look was just right for the piece.
A big thank you has to go to the guys in the suits, Colin & Kevin, who - as well as just enduring the suits - were a constant source of hilarity between takes and off set. Also, it's down to John Isles, Andrew Crines and Gareth Preston that the film has now been finished. They've finished the edit and added the extra layer of sound alongside Peter Wicks's ever-atmospheric music and this has brought the story to life. Thanks to everyone on the production, it's fantastic to see it finished, and I hope everyone who downloads it or sees the DVD enjoys it.
When we started making it we had no idea that it would be released into a world where a new series of Doctor Who had grabbed a new audience and delighted the old, that once again the shops would be stuffed with Dalek merchandise and that Doctor Who would again be a must-see program. With the Cybermen to return to the series in 2006, we're proud to release our film to hopefully remind people of their menace and whet appetites for the new era. Enjoy it, and do let us know what you think!
Tim Reid
February 2006.