Data Protection
Production Notes by Kevin Hiley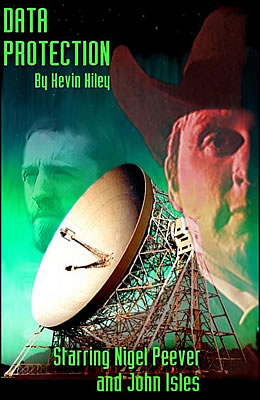 Filmed in spring 2000 over two days Data Protection was a turbulent project that was given a complete plot change half way through production, and it seems much better for it.
Filmed at Jodrell Bank observatory in Cheshire, the Lovell Radio space telescope makes a fabulous backdrop to this haunting story in the style of Sapphire and Steel.
Struggling with an alarming lack of time, location troubles and a script that no one had time to learn, Data Protection manages to emerge with few drawbacks. It was filmed on DVCAM, which at the time made it JM&KHs highest quality production.
Data Protection won "Best Film" and "Best Use of Sound" at the Huddersfield Video and Cine Club and was awarded the Challenge Cup.
Information
To save a film to your desktop, please right-click and select 'Save target as'.
Also please tweet or email us any technical issues.
If you are interested in showing our films at your video club, or have any other queries, please email us here: enquiries@westlakefilms.com
---
---
Recommended